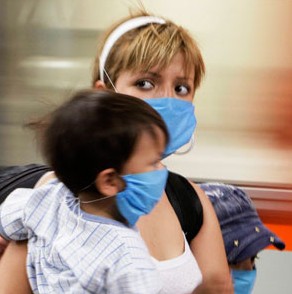 stress quick treatment for H1N1
Patients who have flu-like symptoms and are having trouble breathing should get quick treatment with the antiviral drugs Tamiflu or Relenza, even before getting a flu test, U.S. officials said on Tuesday.
And doctors should consider setting up a system so that patients most likely to become severely ill from H1N1 swine flu have a prescription on hand so they can just call up to get the go-ahead to take the drugs if they develop symptoms, the U.S. Centers for Disease Control and Prevention said.
"Treatment should not wait for laboratory confirmation of influenza because laboratory testing can delay treatment and because a negative rapid test for influenza does not rule out influenza," the CDC says in updated guidelines, available here
"The very young and very old, people with chronic medical conditions and pregnant women in general ought to be treated with antivirals when they have an influenza-like illness," the CDC's Dr. Anne Schuchat told reporters.
But most people will not need any treatment at all for H1N1 because most of those infected so far have recovered on their own. "They can be cared for with mom's chicken soup at home, lots of fluids and rest," Schuchat said.
The latest guidance suggests officials are keen to make sure people who need it get very quick treatment, while making sure people who do not need the drugs do not abuse them.
Both GlaxoSmithKline's Relenza and Roche AG's Tamiflu can help save the lives of patients severely ill with any influenza, if given within a day or so of symptoms starting. They can also ease the misery of milder cases and even prevent flu if people take it just after exposure.
But supplies are not infinite and health officials worry that the more people take them, the quicker the virus will evolve resistance, rendering them useless. Two older flu drugs, amantadine and rimantadine, are already useless against seasonal flu.
The CDC is clear that some people should take the drugs prophylactically — to prevent infection. That includes some healthcare workers and people with high-risk conditions such as asthma who know they were in close contact with an infected person.
But the new guidance adds an option to watch and see if the person gets a fever. "Instead of the preventive use of antivirals, clinicians may consider watchful waiting," Schuchat said.
A vaccine against H1N1 swine flu is being tested but will not be available until mid-October. The CDC recommends that about 160 million people line up for the first doses starting then.
"Virtually all the influenza circulating now in the United States is the 2009 H1N1 strain," Schuchat said. It has not mutated and the vaccine is still a good match, she said.
She said only a handful of cases of resistance to Tamiflu, known generically as oseltamivir, have been reported.
In the United States, 24 elementary, middle or high schools closed because of H1N1 outbreaks last week, letting 25,000 students out of class. The CDC advises against closing schools unless so many students or staff become ill that the school is overwhelmed.
stress quick treatment , stress quick treatment  Health, stress quick treatment  Health Latest, stress quick treatment  Health Information, stress quick treatment  Health information, stress quick treatment Health Photo,Exercising for Weight Health photo, stress quick treatment  Health Latest, stress quick treatment Health latest, Exercising for Weight  Health Story, Healthy Minnesota  Health story, stress quick treatment  Video, stress quick treatment  video, stress quick treatment  Health History, stress quick treatment  Health history, stress quick treatment over Picture, history, stress quick treatment  Asia,  Healthy Minnesota  asia, stress quick treatment  Gallery, Exercising for Weight  gallery, stress quick treatment  Photo Gallery, Healthy Minnesota  photo gallery, stress quick treatment  Picture, stress quick treatment  picture, stress quick treatment  Web, Malaysia Health, web Health, web Health picture, video photo, video surgery, gallery, laparoscopy, virus, flu, drug, video, Health Health, calories, photo, nutrition, health video, symptoms, cancer, medical, beating, diet, physical, Training, organic, gym, blister, exercise, weightloss, surgery, spiritual, eating, tips, skin, operation, bf1, stress, quick, treatment, for, H1N1