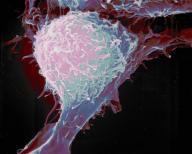 Researchers find prostate cancer stem cell
Cancer stem cells (CSCs) are cancer cells (found within tumors or hematological cancers) that possess characteristics associated with normal stem cells, specifically the ability to give rise to all cell types found in a particular cancer sample. CSCs are therefore tumorigenic (tumor-forming), perhaps in contrast to other non-tumorigenic cancer cells. CSCs may generate tumors through the stem cell processes of self-renewal and differentiation into multiple cell types. Such cells are proposed to persist in tumors as a distinct population and cause relapse and metastasis by giving rise to new tumors. Therefore, development of specific therapies targeted at CSCs holds hope for improvement of survival and quality of life of cancer patients, especially for sufferers of metastatic disease.
Existing cancer treatments have mostly been developed based on animal models, where therapies able to promote tumor shrinkage were deemed effective. However, animals could not provide a complete model of human disease. In particular, in mice, whose life spans do not exceed two years, tumor relapse is exceptionally difficult to study.
The efficacy of cancer treatments is, in the initial stages of testing, often measured by the ablation fraction of tumor mass (fractional kill). As CSCs would form a very small proportion of the tumor, this may not necessarily select for drugs that act specifically on the stem cells. The theory suggests that conventional chemotherapies kill differentiated or differentiating cells, which form the bulk of the tumor but are unable to generate new cells. A population of CSCs, which gave rise to it, could remain untouched and cause a relapse of the disease.
Researchers have found a stem cell, a kind of master cell, that may cause at least some types of prostate cancer.
Their findings are only experimental — the stem cells were found in mice — but could explain at least some types of prostate cancer and eventually offer new ways to treat it, they reported on Wednesday in the journal Nature.
The findings also show a potential new source for prostate tumors — so-called luminal cells, which secrete various compounds used in the prostate.
"The role of stem cells in the development of prostate cancer has been a focus of speculation for many years," Dr. Helen Rippon of Britain's Prostate Cancer Charity said in a statement.
"Importantly, this new stem cell does not rely on androgens — the male sex hormones that control prostate growth — to survive and grow. This may give a clue as to why prostate cancer often becomes resistant to treatments designed to regulate these androgens in the later stages of the disease," added Rippon, who was not involved in the research.
"This improved knowledge will also be a step forward in learning how we might help to prevent the disease from developing in men in the first place."
Michael Shen of Columbia University Medical Center and colleagues named the new stem cells CARNs, for castration-resistant Nkx3.1-expressing cells.
They normally regenerate part of the tissue that lines the inside of the gland, which produces semen. But the cells can also form tumors if certain genes meant to stop out-of-control growth get turned off.
Shen said researchers had believed that tumors arise from a different layer of cells in the prostate, called basal cells.
"Previous research suggested that prostate cancer originates from basal stem cells, and that during cancer formation these cells differentiate into luminal cells," Shen said in a statement. "Instead, CARNs may represent a luminal origin for prostate cancer."
Prostate cancer is the second most common cancer in men worldwide after lung cancer, killing 254,000 men a year globally.
prostate cancer stem, prostate cancer stem Health, prostate cancer stem Health Latest, prostate cancer stem Health Information, prostate cancer stem Health information, prostate cancer stemHealth Photo,Exercising for Weight Health photo, prostate cancer stem Health Latest, prostate cancer stemHealth latest, Exercising for Weight  Health Story, Healthy Minnesota  Health story, prostate cancer stem Video, prostate cancer stem video, prostate cancer stem Health History, prostate cancer stem Health history, prostate cancer stemover Picture, history, prostate cancer stem Asia,  Healthy Minnesota  asia, prostate cancer stem Gallery, Exercising for Weight  gallery, prostate cancer stem Photo Gallery, Healthy Minnesota  photo gallery, prostate cancer stem Picture, prostate cancer stem picture, prostate cancer stem Web, Malaysia Health, web Health, web Health picture, video photo, video surgery, gallery, laparoscopy, virus, flu, drug, video, Health Health, calories, photo, nutrition, health video, symptoms, cancer, medical, beating, diet, physical, Training, organic, gym, blister, exercise, weightloss, surgery, spiritual, eating, tips, skin, operation, bf1, prostate, cancer, stem